All-round Lean Six Sigma experts

"Variation is evil". A quote the former CEO of GE, Jack Welch is famous for. Yet many manufacturing processes are still plagued by it. Marred by variation in output, variation in the quality of raw materials and having to deal with variation in customer demand. Clearly Jack Welch was absolutely right, ultimately variation costs money. Reducing variation is a common objective but not an easy feat. A rigorous research plan, data and advanced analytics can help you find the root causes of variation and eliminate them. Lean Six Sigma provides the indispensable structure to realise this critical process improvement.

Any Continuous Improvement professional will hugely benefit from Lean Six Sigma knowledge and expertise provided through our Lean Six Sigma Black Belt Industrial Sector course.
Lean Six Sigma Black Belt course

With this course, you will learn to achieve statistically substantiated improvements. The course also delves deeper into designing processes from scratch using Lean Six Sigma methods and tools.

The 10-day Lean Six Sigma Black Belt Industrial Sector course is the most comprehensive Black Belt training in our offer. The course consists out of 2 days of Lean theory, 6 days of Six Sigma DMAIC project structure and 2 additional days covering Design of Experiments (DoE) and Measurement System Analysis (MSA).

After the course, you will be able to conduct high complexity Black Belt projects such as those which require a DoE approach.

If you are looking for a totally self-paced course, please contact our programme manager (Maurice Doppert) at 07884 706948 or maurice@theleansixsigmacompany.co.uk.

Lifelong access to our Lean Six Sigma Learning Platform:



All participants are granted lifelong access to Lean & Six Sigma learning platform containing an extensive database on Lean Six Sigma. An ideal preparation for the course as well as a invaluable reference guide for the future.

This platform provides an abundance of Lean Six Sigma knowledge at your fingertips, covering the ISO18404 and ISO13053 standards and more.

It includes:
More than 40 video's covering all course matter including a general introduction to the world of Lean Six Sigma

More than 90 hours of short courses (e.g. basic statistics for Six Sigma)

Two comprehensive e-books on Lean and Six Sigma in practice

Complete slide packs
For more information, please contact our programme manager (Maurice Doppert) at 07884 706948 or maurice@theleansixsigmacompany.co.uk.

Also available online

A complete online suite of Lean Six Sigma tools such as Kaizen Event, 5S Management, Value Stream Mapping and more…

View all our online courses

Bite-sized courses starting at £39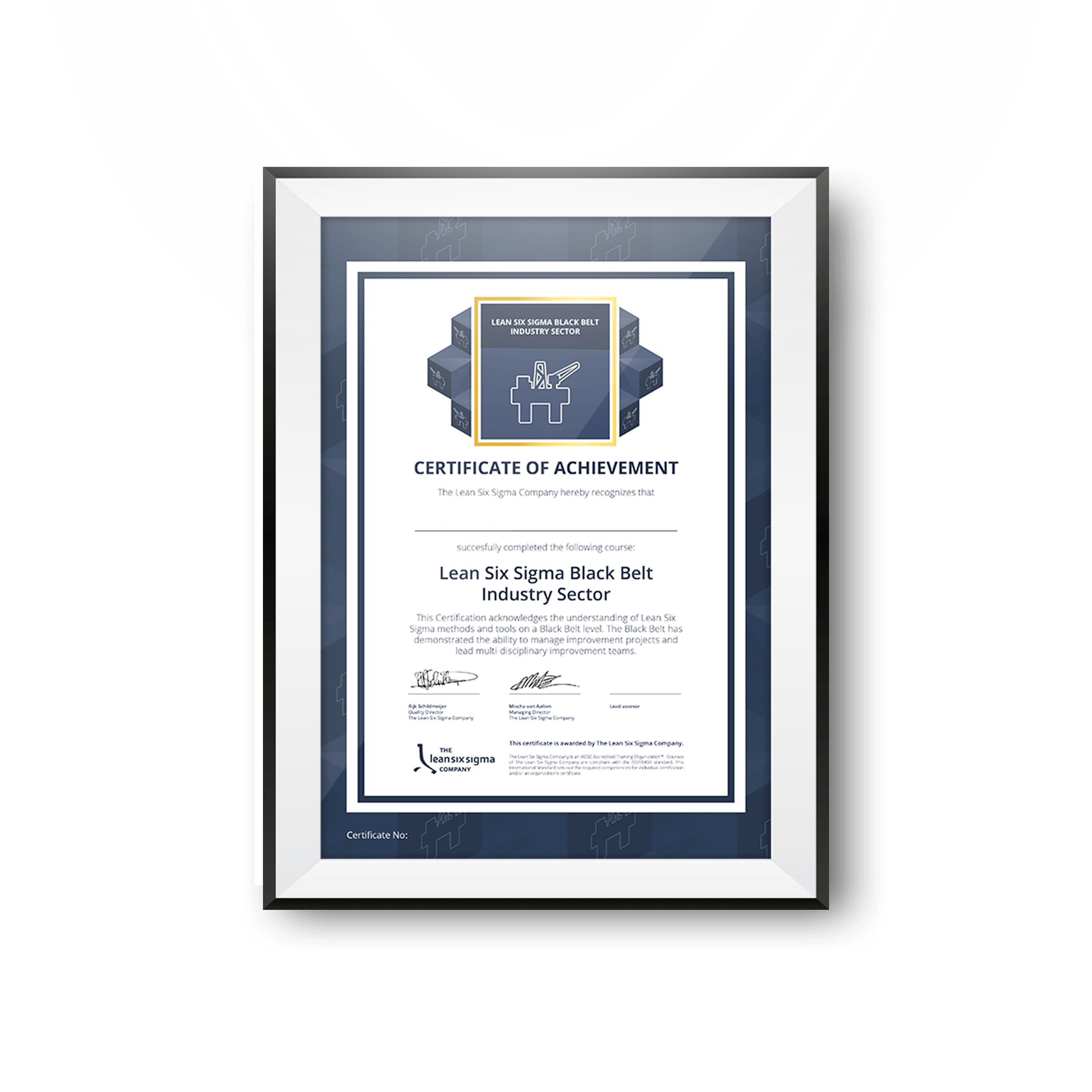 Practical information

We provide this Lean Six Sigma Black Belt course through open enrolment in collaboration with the University of Bedfordshire.

Below, you will find more detailed information on the schedule, curriculum, the main topics, pricing and dates. Request our prospectus if you would like to know more about issues such as the expected time involved (incl. preparation and homework), the detailed programme, the target audience and the objectives of the course.
10 (classroom) / 12 (online seminar) days theory + practical assignment

Theoretical part will be concluded with an exam

Practical assignment involves a project enabling delegate to demonstrate practical experience. During the assignment, individual coaching will be provided by the Master Black Belt

Theory can be followed seperately from practical assignment
to manage a Lean Six Sigma improvement project or initiative

to manage an improvement team

to apply the Lean Six Sigma method and tools in both services and industrial sector

to successfully implement a defined solution within an organisation in the service sector
After this course you will be able to:

After passing the theoretical exam you will be awarded the internationally recognised Lean Six Sigma Black Belt certificate which evidences theoretical knowledge of Lean Six Sigma.

After completion of your practical assignment you will awarded a certificate evidencing both theoretical knowledge and practical experience in Lean Six Sigma on a Black Belt level.




Part 1 - Lean Thinking

Two course days covering Lean Methods and Tools:

Important learning method is a business case simulation.


Part 2 - Six Sigma

The next 6 days will cover the Six Sigma project structure and associated methods/tools. Important subject matter covered:
Background of Six Sigma
Define phase: Selecting a project
Basic statistics
Measure phase: Determine critical impact factors
Analyse phase: Root causes and analysing data
Hypothesis Testing
Improvement phase: Generate solutions and piloting
Control phase: Control plan and project closure
Part 3 - DoE and MSA

The last 2 days in class focus on more advanced statistical tools specific to a manufacturing industry working environment:
Design of Experiments
Measurement System Analyses
Part 4 - Practical Assignment

After the theoretical exam and certification you are provided the opportunity to implement your knowledge and bring an improvement project to a successful conclusion during a 'Practical Assignment'. Coached by your Master Black Belt you can achieve certification which evidences both theoretical and practical expertise in Lean Six Sigma on a Black Belt level.

The Practical Assignment will need to commence within 2 years after passing the theoretical exam and can be booked separately.

More detailed information can be found in the prospectus.

Lean Six Sigma Black Belt 10 day classroom course £2550 (+VAT)

Pricing includes:
Classroom / online seminar tutoring by an experienced Master Black Belt

Course materials (reference book, slide pack)

lunch on classroom days

Minitab software trial subscription with full capabilities

Exam (and 2 resits if required)

Certification (evidencing Lean Six Sigma theoretical knowledge on a Black Belt level)
Practical Assignment £950 (+ VAT)

Pricing includes:
8 to 10 hours of individual project coaching by your Master Black Belt

Formats / tools overview

Project Assessment

Certification (evidencing Lean Six Sigma theoretical knowledge and practical experience on a Black Belt level)
Pricing does not include:
WHAT IS THE VALUE OF A LEAN SIX SIGMA CERTIFICATE?

Upon successfully completing a Lean Six Sigma training you will be awarded an 'official' certificate. How can you make sure this certificate represents the very value you were looking for. In the following video tutorial, it is explained what elements you have to take into account to determine the value of the certification provided. Learn more by clicking here.
Scheduled courses

February / March

21 February 2022|22 February 2022|23 February 2022|24 February 2022|25 February 2022|7 March 2022|8 March 2022|9 March 2022|10 March 2022|11 March 2022

April / May

25 April 2022|26 April 2022|27 April 2022|28 April 2022|29 April 2022|9 May 2022|10 May 2022|11 May 2022|12 May 2022|13 May 2022|16 May 2022|17 May 2022

June / July

13 June 2022|14 June 2022|15 June 2022|16 June 2022|17 June 2022|27 June 2022|28 June 2022|29 June 2022|30 June 2022|1 July 2022

Course venues
Register here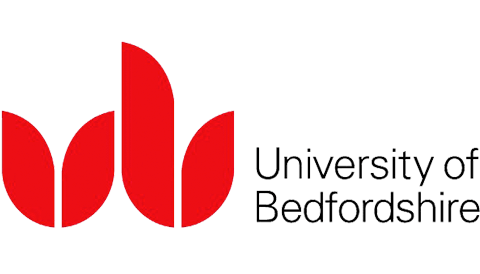 Request prospectus

Request a prospectus for more information such as a detailed programme, the recommended preparation, the target audience, the examination and certification.
In-company.
Lean Six Sigma in your company

Although Lean Six Sigma is best known as a project-based improvement structure, it is much broader than that. Lean Six Sigma is an established philosophy, an organisational and improvement structure as well as a set of tools. Using this perspective Lean Six Sigma addresses organisational issues with respect to competitiveness, cost reduction, and customer satisfaction.

Depending on your ambition, Lean Six Sigma can be implemented in phases. Every organisation is unique, without a common blueprint that universally applies. Together with you, The Lean Six Sigma Company will develop a plan of action tailored to your organisation.

Contact usContinue reading
Related Courses
Others showed their interest in these courses.